Take a sneak peak into Joshua Graham's latest high-stakes thriller DARKROOM!
Click the CONTACT BUTTON or CONTACT MENU, to subscribe to Josh's Newsletter and receive FREE Sample Chapters!
Rest assured: Your contact information will never be sold.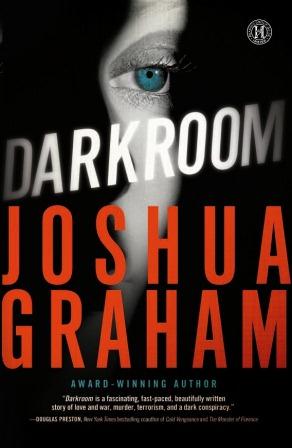 EARLY PRAISE
Darkroom is a fascinating, fast-paced, beautifully written story of love and war, murder, terrorism, and a dark conspiracy."
—Douglas Preston, New York Times bestselling coauthor of Cold Vengeance and The Monster of Florence
Darkroom comes complete with a great mystery, unearthed secrets, and beguiling adventure. Joshua Graham mines an emotional landscape through an entourage of fascinating characters. Read this one—and take a walk on the perilous side.
—Steve Berry, New York Times bestselling author of The Jefferson Key
Bravo! Graham takes characters and puts them inside each others lives in such a way that it's impossible to put his book down until the last word is read. . . . [His] power with words is absolutely incredible and paints one of the most powerful pictures I've ever seen, anywhere.
—Suspense Magazine
Mixing the end of the Vietnam War with a young woman's paranormal visions of a murder in today's New York, Graham has created a modern political thriller wrapped in a historical puzzle inside a tale of redemption. The short chapters, told from the point of view of the various characters, give it a cinematic feel and a breakneck pace.
—Author Magazine
"Darkroom is a twisted tale of conspiracies [that] moves at a frantic and suspenseful pace. . . . Mr. Graham immediately grabs hold of the reader with the tenacity of a pit bull and will not let go until you have read every last page and emerge exhausted and happily satiated from this astonishing ride. . . . I would not hesitate to recommend Darkroom . . . You won't be disappointed."
—PsychoticState.net Book Reviews
"…a spellbinding and riveting tale of suspense with an international flavor…"
"…Wrapped in authentic history, but woven into a tale of mystery and intrigue…"
"…full of twists and turns…"
"…this riveting tale will keep readers on edge."
—East County Magazine
A vivid retelling of historic events [that] bring the Vietnam War to life in alarming detail. If you like thrillers . . . then grab this book when it's released. You'll enjoy every minute of it.
—Rhodes Review
Product Description
First Prize Winner of the 2011 Forward National Literature Awards
Award-Winning Finalist in the Mystery/Suspense category of The USA "Best Books 2011″ Awards
After scattering her mother's ashes in Vietnam, photojournalist Xandra Carrick comes home to New York to rebuild her life and career. When she experiences supernatural visions that reveal atrocities perpetrated by American soldiers during the Vietnam War, she finds herself entangled in a forty-year-old conspiracy that could bring the nation into political turmoil.
Launching headlong into a quest to learn the truth from her father, Peter Carrick, a Pulitzer Prize Laureate who served as an embedded photographer during the war, Xandra confronts him about a dark secret he has kept–one that has devastated their family.
Her investigations lead her to her departed mother's journal, which tell of love, spiritual awakening, and surviving the fall of Saigon.
Pursued across the continent, Xandra comes face-to-face with powerful forces that will stop at nothing to prevent her from revealing the truth. But not before government agencies arrest her for murder, domestic terrorism and an assassination attempt on the newly elected president of the United States.
Darkroom is a riveting tale of suspense that tears the covers off the human struggle for truth in a world imprisoned by lies.